Sketch of the Life of
Alexander Stewart Graham and
Elizabeth Jane Nutman By Oreen L. Walker, Their Granddaughter
George Nutman, a rope maker, born about 1795 and his wife Ann Rose, born about 1802 (My Great Grandparents) lived at Great Yarmouth, Norkfolk, England. Eight children came to bless their home, one of them destined to start the great work of redeeming her kinsfolk
Probably the eldest child was Ann Louise (Chr. 9 July 1822). Others: Eleanor Elizabeth (Chr. 17 February 1826), Emma Amelia (Chr. 2 November 1828) who married Robert Woodhouse, Elizabeth Jane (Chr. 4 October 1832), George, Thomas, and Mary Ann (born about 1836, who married 1. William Parkinson, 2. Charles Grant, 3. David Littlefield), and Matilda who married George Bradbeer. (This information taken from Parish Records, Norfolk, England. Mss. 1 c 248 D 2, and from the will of George Nutman.)
It was at Great Yarmouth while a girl that Elizabeth Jane Nutman (My Grandmother) first heard the Gospel of Jesus Christ Of Latter-Day Saints. Her father being very bitter toward the Mormons, forbade her having anything to do with them, or attending any meetings given by the missionaries. A neighbor, Mrs. Bitten, who had already joined the Church and at whose home the missionaries used to come, would let Elizabeth know when a meeting was to be held. Elizabeth pretending to go to bed would climb out her bedroom window and attend the meeting. Her sisters found it out and told their father. He became very angry; and throwing her things out, he said, "You must choose between me and those awful Mormons." With sadness in her heart, but unwilling to give up the new found joy and the truth she felt in the Gospel, she left her Father's home and went to her friend Sister Bitten. Just before she left, her Father took away from her a watch and ring that had been given her by her Mother who had died when Elizabeth was about eight years old.
A short time later in 1852, Elizabeth was baptized into the Church; and when she with the Bitten family had prepared to come to America, she came back to her Father's home to bid her family goodbye.
Her Father at that time gave her ring and watch back to her, leaving them on the gate post for her to pick up; but he did not ask her into the house, nor did he forgive her. This was heart breaking - for she was never to see her Father again in this life.
Relating this incident later to her children, Elizabeth said, "It about broke my heart to think my Father would not forgive me. He was so bitter, but I knew the Gospel was true and the gladness I felt in it was wonderful. I can''t explain my feeling to you. It just thrilled my whole being and gave me strength and comfort to continue on my way."
When Elizabeth reached Liverpool where she was to take the boat to America, she received a letter from her Father asking her to come back and he would forgive her. Bravely, Elizabeth came on to America where she was to fulfill her mission here on earth, seemingly guided by a power more stronger than the ties of home, her loved ones, and the security she was leaving.
Elizabeth came to St. Louis, Missouri where she resided for some time. One day soon after her arrival there, she with her friend Sister Bitten was walking down the street. They saw some tomatoes in a store window. Not knowing what they were; but thinking to have a feast on such delicious and pretty looking fruit, they purchased some. The first bite was very disappointing and the rest of the tomatoes were thrown away.
While Elizabeth lived at St. Louis, her Father wrote to her, and they corresponded quite frequently after that.
Elizabeth soon found work after reaching St. Louis. She worked as a seamstress for people by the name of Kershaw who owned a tailor shop. Her work was to make button holes and to do the finishing off of the clothes. Years later, one of her children made this remark, "Mother could make the neatest and prettiest button hole I ever saw."
It was while working at Kershaw's that she met Alexander Stewart Graham, youngest child of Henry and Jane Graham. He had come to St. Louis from Ardrossan, Ayrshire, Scotland, where he was born the 31st of December 1831. With him were his Mother and three sisters: Jemima, Maggie and Jennie. His Father drowned at sea three months before Alexander was born. Also John Graham, the eldest child, brother to Alexander, was supposed to have been drowned, having gone away to sea and was never heard of again.
Elizabeth and Alexander fell in love with each other and were married at Kershaw's home. Mrs. Kershaw prepared their wedding supper.
Alexander had been baptized into the Church the 15th of May 1849, when he was just a little over 17 years of age. He was the only one in his family to join the Church. So now it was his and Elizabeth's aim to get to Salt Lake City and go through the House of the Lord.
Two children were born to them while living at St. Louis: George, born in October 1860, and Jane Smith born the 13th of December 1861; George died in 1862 and was buried at St. Louis.
By this time, Elizabeth and Alex had saved up enough to come to Salt Lake. Here they went through the Endowment House and were sealed to each other the 13th of June, 1863.
Agness McDonald was born to them while at Salt Lake, the 23rd of January 1864. Then Elizabeth and Alex were called by President Brigham Young to go and help settle Deseret, now in Millard County Utah. They took what seeds they could get. The seeds were divided among the people being sent to Deseret.
The first year their crops were planted and were growing nicely when the crickets came. "We could not see the sun when the sea gulls came after the hordes of crickets. It was like a big dark cloud came between the earth and the sun," Elizabeth in later years told her children. The sea gulls came and devoured the crickets, but too late to save the crops. Nothing but the stocks remained.
The second year in Deseret and just after the spring work was done, the dam which had been built during the first year broke, and the crops were ruined again. The next year salaratus came up on the land and nothing could be grown.
'Twas then all but six families moved out. There was hardly anything left for them to eat. Those remaining made bran bread and that was their main food.
It was at this time on the 28th of April 1866 that Eleanor Elizabeth was born to Elizabeth and Alex. While Elizabeth was ill in bed, her husband went to the few remaining families and asked if they could find a little white flour that some white bread might be made for his sick wife. White flour was more precious than gold at that time. Every neighbor scraped their flour bins and shook their flour sacks and gave what they had to Alex. In this way, enough flour was gathered to make one small square loaf of bread.
A small thin slice of this together with a larger slice of bran bread was given to Elizabeth at meal time. The one attending her would take the little children out of their Mother's room when meal time came because she knew that their Mother could not eat the white bread and see her little girls go without. But Elizabeth with tears in her eyes would eat the bran bread and hide the white bread under her pillow. Later when the children returned to her room, she would motion for them to come to her. Then she would divide the white bread between them; and not once did she taste the white bread.
During this time, Elizabeth's sister Mary Ann had come to St. Louis Missouri where she met Charles Grant and was married to him. Later they moved to Baker City, Oregon. Elizabeth and Mary Ann corresponded all during this time. Alex had worked for Charles Grant while living in St. Louis. Thus Mr. Grant, knowing and liking Alex, and knowing of their circumstances in Deseret, sent enough money for Alex and Elizabeth to come out to Oregon on the stage and work for him.
Elizabeth and Alex prepared to go. In the knee of Alex's trouser was a hole. There was nothing with which to patch it; but they couldn't think of having clothes that were ragged. So Elizabeth took her dish rag, through patched and worn very thin, by folding it a few times and using a long yellow grass to sew with, she made a very neat patch for her husband's trousers. She used to say to her children when they complained that they couldn't make a pretty patch, "An ugly patch is better than a handsome hole."
When they reached Oregon, Elizabeth found her sister standing in the doorway of her home, dressed in black and with tears in her eyes. Her husband had passed away the day before.
While in Oregon, Charles William, 5th child to Elizabeth and Alex was born the 27th of January 1868.
Elizabeth did not feel well while in Oregon. At one time, she was so ill that they feared for her life. But through prayer, she was restored. They felt that they had gotten too far away from the body of the Church. So they started saving all they could and prepared to come back to Utah.
Alex worked until they had gotten enough provisions with which to make the journey; then with two teams, two wagons and with another man by the name of Bigsey, they started back toward Salt Lake City.
One night after a long day's journey, they made camp. The horses were hobbled so they could easily be caught for an early start on their journey next morning. When morning came and they went to get the horses, there were no horses to be found.
After chopping a little wood for his wife to prepare breakfast with, Alex left the pile of wood with the ax lying beside it and with Bigsey started out to try and find the horse.
Elizabeth cooked breakfast and with her little children was waiting for the men to come back. Off in the distance she could see an object coming toward camp. Soon she could see that it was a horseman coming as fast as the horse could travel. At first, she thought that it might be one of the men coming back with the horse. But she soon recognized it to be the dreaded, raiding enemy of that region at that time, the Indian.
With fear clutching at her heart, she remember the cabin they had passed on their journey a few days back where a man lay dead killed by Indians. His wife whom the Indians had not seen, was there alone with him. And just the day before, they had passed by a tree where a man had been buried, killed by the Indians. The little children frightened nearly to death, ran and climbed into the back of the covered wagon and cowered down, trying to hide from that fast approaching figure. Elizabeth then remembered something Brigham Young had once said, "Feed the Indians."
When the Indian chief jumped from his horse, he put his foot on the ax lying where Alex had left it; and stood looking at Elizabeth and asked her where her men were. Elizabeth had learned the Indian language while at Deseret so she understood the Indian. Trying to appear unafraid, she answered, "Oh, they're just a little way out." The Indian laughed. He shook his head and pointing into a far off direction, he said, "Way, way off."
Elizabeth thought, "He knows I'm alone. Then she said, "Won't you have something to eat?" And quickly setting out the large pile of pancakes that she had made, and other things she had prepared for breakfast, and still other things out of their food supply, she asked him to eat. "I would have given him everything I had if it would help any," she afterwards remarked.
The Indian sat down and ate. When he had finished, he told Elizabeth he had come to scalp her; but he said, "You too wiggawanna squaw, me no kill." (Meaning, you're a very good squaw, and I won't kill you.) Then he asked, "Where papooses," and walking over to the wagon, he lifted the cover. Thinking he was going to drag the children out, their Mother told them to come out and shake hands with the Indian. Quivering and frightened nearly to death, they came out and shook hands with him. The older girl relating many years after how well she remember the incident said, "When I heard him coming toward the wagon, I thought our last minute had come."
The Indian chief then told Elizabeth where the horses could be found. A way off in one direction, then a way off in another direction and down in a ravine where the Indians had hidden them. He told her they could go to their journey's end and have no more trouble. The Indians would not harm them. She then gave him some dried fruit and molasses, and the Indian got on his horse and rode away as fast as he had come.
Later that afternoon, the men returned exhausted and hungry with no horses. Elizabeth gave them something to eat then told about the Indian and where to find the horses. One of the men went after the horses and the other stayed at camp. Alex said, "I won't ever leave you alone again."
It was way after dark when the horses were brought in; but early the next morning, they started on their journey again. They had not gone far when a cloud of dust was seen in the distance. With tomahawks waving and yelling and whooping, a band of painted Indians was soon circling their wagons. Then the chief of the tribe raised his tomahawk and all was silent. It was the same chief who had visited Elizabeth the day before. He rode up, shook hands with them, and told Alex he had meant to scalp his squaw the day before; but she was too "wiggawanna squaw" and now they could go on in peace to their journey's end and would not be molested by them. Elizabeth and Alex game them some more of their provisions and the Indians went riding away whooping and howling with tomahawks waving.
Alex and Elizabeth came to Kaysville, Davis County, Utah. They rented a little doby room where they lived for a while. 'Twas here their small two-year old son, Charles, was taken ill and died.
They then bought a place with two city blocks from Joe Young. A daughter Margaret Isophene was born there on the 29th of November 1869. They lived there about two years and then went to Alma, Sweetwater, Wyoming to work in the coal mines. Jennette Innis (My Mother) was born there the 2nd of October 1871.
After living in Wyoming a little over two years, they came back to Kaysville, having saved enough to finish paying for their home. Here Alex was first counselor in the Sunday School. Three sons were born to them here at Kaysville. Alexander Stewart Jr. about 1873, James Henry on the 27th of March 1876, and John Thomas on the 24th of February 1879. This made ten children born to them.
Alex also had a daughter, Sarah, born in 1876 by another wife, Ann Maylin, whom he married in polygamy. Ann died in 1877.
While living in Kaysville, Alex worked on the section of Union Pacific Railroad. Then he was called by Bishop Sharpe to go to Leamington, Juab County, Utah to take the section there as overseer. Right after reaching there, he was put in as first counselor to the Bishop. He was choir leader and head of the M.I.A. He help organize the first M.I.A. in Leamington.
The people there were quite poor. They lived in log huts with thatched roofs and no floors, factory over the windows, chairs built or willows woven with rawhide. However, the people were very happy, and all united like one large family.
Alex and Elizabeth with their family were very happy there. They were loved by all and many good times were had at their home - the quilting bees, husking bees, etc. At Christmas time, they went caroling and had joyful sleigh rides. They had fun dances and parties. On Sunday afternoons, they would get together and sing. Everybody went to Church. Eleanor Elizabeth Graham said, "The boys there were very nice. I never saw a finer crowd of boys. I never did see any of them smoke."
The Bishop once said to Alex, "Brother Graham, you're the happiest man I ever saw. You always have a smile on your face." Alex answered, "When my wife and children are happy, I'm happy. When they're sad, I'm sad."
It was there that sadness came into the Graham home. Alexander Jr. was about seven years old and a very nice singer. The men on the train crew used to have him sing for them. One day they were working in the cut of the gravel pit, filling a car with gravel just a short distance from the house where the Graham's lived. They called Alexander to come and sing to them. The little fellow climbed on top of the gravel car, it being a low-flat car. As he sang to them the men worked.
Alexander heard the bell ring, thinking the car was ready to go forward, he jumped off the back; but instead of it going forward, it backed, running over the child, leaving one half of his little body on each side of the rail. The men put an overcoat over the body and uncoupling the engine from the car, went up the track to get the boy's father. He was working probably two miles away.
Elizabeth in the house could not see what had happened because the train was in a cut; but she wondered why they were taking the engine alone up the track. Soon she saw it returning with her husband. He looked so odd that she rushed out to see what was the matter with him; but someone took her back into the house and would not let her come out.
They took Alex over to the boy and took the overcoat away. This dreadful shock was almost more than the Mother and Father could bear. Alex said, "If they had only kept that sight from me." He also said "that was the first nail in his coffin."
For weeks Elizabeth knew nothing of what was happening. Then when she did realize what had happened she cried for the first time. She cried and cried all the time. Then one night she had a dream. She thought that she was in a large beautiful room. There were white personages there. Soon a great number of little children came marching into the room, all happy and gay, carrying lanterns with bright lights, all but one little boy. It was her little boy Alexander. He was very sad. Every now and then he would stop and put his little hand up to his flickering light as though trying to keep it from going out. Elizabeth asked him, "My little son why are you so sad? Why is your light not bright like the others?" Alexander answered, "Mother your tears put my light out." The Mother said, "My tears shan't put your light out any more."
Elizabeth told this dream to her family the next morning; and she said, "I'll not cry any more. I want my boy to be happy." And from then on, she shed no more tears.
A few weeks later she had the very same dream. She saw the very same room and the white personages. The little children came marching in again, and her little boy was as happy as any of them, and his light just as bright as the rest.
Eleven months after the death of Alexander Jr., Alexander Sr. contracted pneumonia and died, the 9th of September 1881. He would have been fifty years old the following December. Elizabeth had him brought back to Kaysville where he was buried. She lived in Kaysville the rest of her life.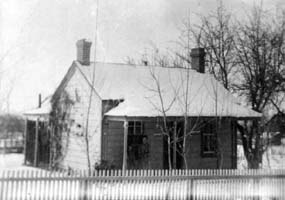 One day while in Kaysville, Elizabeth sat sewing at her machine when a knock came at the door. Opening it, she saw an old wrinkled, feeble looking Indian. The minute the Indian saw her he grasped her hand and shook it, then said he was the Indian who once intended to scalp her. After that he used to visit Elizabeth quite often. With tears in his eyes, he would tell how sorry he was for the things he had done, for he had scalped many white people. The more scalps on an Indian's belt, the greatest honor for them.
Elizabeth died the 4th of February 1895, while visiting in Provo, Utah, with her daughter, Jennette Lockhart. She was taken back to Kaysville and buried there.
Their descendants now are very numerous. They all love and respect the memory of these two gallant people. A Graham reunion is held every year in honor of this couple who came from foreign lands for the sake of the Gospel; that their children might carry on the great work which they started by coming here.
- End -